In this thread, we will discuss all details related to Affiliate Program of Tradetron
Question: What is Tradetron Affiliate Program? How can I signup as an affiliate?
Answer:
You will find all details of Tradetron Affiliate Program in the below Link: https://tradetron.tech/html-view/affiliates
On this page, at the bottom left corner, you will see the option to Sign up as shown in the image below: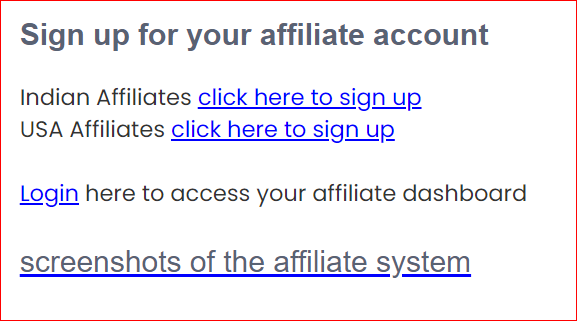 When you click on the Sign up link, below shown window will open. Please fill in your complete details and sign up: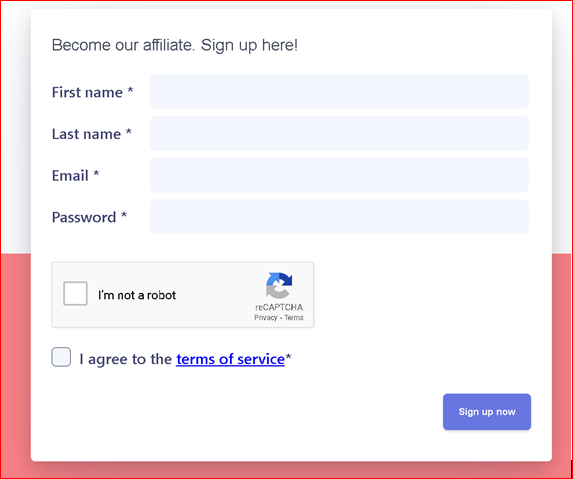 Question: How to find your "Referral" Link?
Answer: On the "Dashboard" Page, on the left side menu, you will see "Assets" Option. Please Click on it. Here you will see your referral link as shown in the image below:
You can copy the link as per your account and share it with your connections.

Question: Where can I see my referral / users / subscribers who have signed up using my referral link? Also, where to check users' invoices?
Answer:
Login to Tradetron. Here, when you click on your name on the right hand side top corner, you will see a menu with "Affiliate Dashboard" as show in the image below:

You can check your referrals here as shown in the image below:
Also to check User Invoices, you will see the option to see "User Invoices" on the right hand top side as shown in image below:

Question: How do I update by Bank Account Details to get Affiliate Commission Payout?
Answer:
Note that, Funds are processed automatically on the first day of every month to your bank account, provided the total accumulated commission is greater than 500 rupees.
On the "Affiliate" page, you will see your name initials on the Left hand side bottom of the page, please click on it. Here, you will see the option of "Payout methods" as shown in the image below: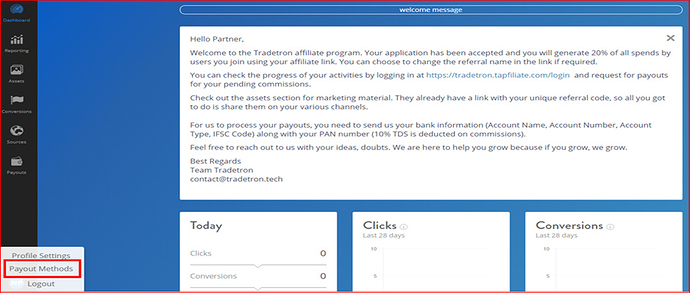 Once you click on "Payout methods", you will see window like below, where you can update your bank details:

Question: How & when will I get my affiliate commission?
Answer:
Please note the following:
Commission payouts are made and settled at the end of every month
Payouts will be done only if your Tap affiliate account balance is above Rs. 500.
Also please note that 5% TDS is applicable on the withdrawal.
Note:
The affiliate commission is eligible only on Cash payments for the subscription plan. Coupons subscription payments are not eligible for affiliate commission.